What began in 1915 as an On Time Cleaners has grown steadily through the years into the Parkway Cleaners of today. Parkway Cleaners serves the greater West Chester Area with 11 full-service retail locations, home, and business pickup services, and full-service alternation and special cleaning operations. Parkway's mission is to meet all of our customer's needs with quality workmanship at a reasonable price.
Parkway Cleaners has embraced Eco-Friendly Green values long before Green became popular by encouraging hanger recycling, poly bag recycling, and utilizing safe chemicals and processes in all of its operations.
Click here to find out more about what Parkway is doing to be Eco-Friendly.
John Ciccarone Sr., who migrated form Italy in 1905, opened a "On Time Cleaners" in a small self-contained 1500 square foot plant in West Chester.
John Sr. formed a partnership in Wilmington, DE. And opened a 50,000 square foot plant that served 3 states called "Tri-State Cleaners" (DE, PA, NJ). They only served wholesale accounts because that was probably 90% of the business at that time. They were one of the largest operations at that time in Delaware.
John Sr. retired from the Dry Cleaning business.
John Ciccarone and brother Frannie Ciccarone opened up a 3000 square foot retail plant at one of the first shopping centers in Wilmington, DE. (Merchandise Mart) The name was Parkway Cleaners and the reason was that John felt it was a word that people would be familiar with because of certain roads and such that were called Parkways. Something people would recognize and remember.
John Ciccarone leaves Wilmington and moves into 3000 square foot self-contained plant on Montgomery & E. Gay St.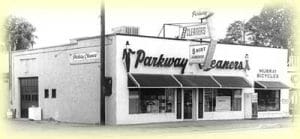 Frannie Ciccarone remains in Wilmington and eventually sells his cleaning business to John's oldest son Donny who moved the business to the Newark, DE area.
Tommy Ciccarone Sr. is part of the labor force that constructed the now Gay St. store.
Tommy Ciccarone Sr. took over the cleaners with the Gay St. store and the Market Place store. 
Tommy Sr. owns and operates a total of 14 stores and a 15,000 square foot plant, which is one of the biggest in Chester County.
Rahul and Vyomesh purchase Parkway Cleaners with a mindset of bringing technology to the Dry Cleaning Industry